Ultra Low Noise Synthesizer
The LNS-18 is a general purpose synthesizer that exhibits the best phase noise performance of the industry. Its low noise oscillators generate a very flexible frequency up to 18 GHz. With -132 dBc/Hz at 10 GHz carrier and 20 kHz offset, the LNS-18 can help you challenge tomorrow's requirements for Space and Defense applications.
Many options are available in addition to the Ethernet and EFC input.
Lowest noise floor : -132 dBc/Hz @20 kHz for a 10 GHz output!
7 » Touch Screen
Optional Level Control
Optional Pulse Modulation
Optional GPIB port
Optional Low Frequency extension down to 8 MHz
Optional 10 MHz ultra stable time-base
Optional 1 mHz resolution
LNS-18 Specifications
FREQUENCY
Frequency Output :
4 to 9 (LNS-9) or 18  (LNS-18) GHz (option for lower frequencies)
Output Level :
+12 dBm (± 2 dB)
Non-Harmonic spurious :
1/f3 slope from 1 Hz to 1 kHz offset & <-70 dBc above 1 kHz offset typically
Absolute Phase Noise (dBc/Hz)
| Typ. dBc/Hz vs Offset (Hz) | 10 Hz | 100 Hz | 1 kHz | 10 kHz | 100 kHz | 1 MHz | 10 MHz |
| --- | --- | --- | --- | --- | --- | --- | --- |
| 4GHz | -62 | -94 | -126 | -138 | -140 | -142 | -165 |
| 8GHz | -56 | -88 | -120 | -132 | -135 | -138 | -162 |
| 16GHz | -50 | -82 | -114 | -126 | -129 | -132 | -155 |
Legende: @16.1 GHz, @8.05 GHz, @4.05 GHz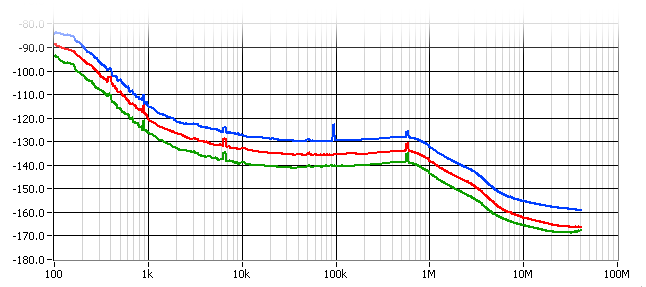 For more specification please download the pdf file of the library
LNS-1HZ: 1 mHz resolution
LNS-LF: Output frequency divider
LNS-PULSE: Pulse modulation
LNS-10M: 10 MHz stable time base
LNS-GPIB: GPIB port
| | |
| --- | --- |
| File Description | File Name |
| How to measure phase noise of ULN SAW Oscillators – PDF – 220 ko | OCSO Application.pdf |
| Testing Phase Noise of Ultra Low Phase Noise OCXO – CHALLENGES AND SOLUTIONS – PDF – 768 Ko | PID2382573_E.pdf |